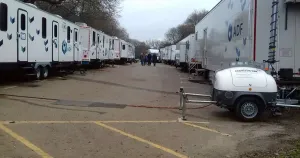 Consultancy and Music supervision
Bagpipes and traditional instruments have appeared in some of my favourite movies and TV shows.  With so much detail going into costume, location, props to make everything seem so realistic and authentic, I am often shocked at the lack of attention given to actors miming and the instrument they use.  
Whether that be an uninflated bag, incorrect way of holding the instrument or even the instrument itself not set up properly.  
I can make sure this doesn't happen by making sure the instrument is set up to look like a working bagpipe, teach the performers the basics of how the pipes would work and how they should be held.  
I can also provide an instrument and source any specialist dressing for it (bag cover, drone chords, banners etc).  
Lessons are available for the talent if required and I use my own cheat sheet technique to match the fingers to any audio if needed. 
Other services I can offer include 
Sourcing correct instruments (I've even had ones 3D printed before!) and liaising with props department. 
Sourcing musicians other musicians eg. Ceilidh bands, folk groups. 
Helping to chose the right repertoire and the associated rights issues. 
 Arrangement and sheet music creation.